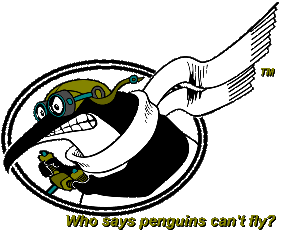 The Penguin Flight Penguin Collection
Yes, not only do I collect penguins myself, but everyone seems to keep buying them for me! This is only a sampling of my current penguin collection -- everything from ceramic figures to custom artwork to stuffed animals and puppets. Click on a thumbnail for a larger view.
These are actual photographs from my collection, taken with a Casio QV-30 digital camera, mostly on a set of bookshelves I built in a friend's shop in January 1997. As you can see by the pictures, I am not a professional photographer.
Penguins come in all materials, shapes, and sizes.

Wood...
Glass...
Ceramic...
Brass...
Plastic...
Artwork...
Stuffed
and
Fuzzy...
Towels...
Clothing...
Cards
and
Books...